This year, Lallemand Biofuels & Distilled Spirits joined the international Spirits Selection family as a gold sponsor. We were very pleased to be a part of this competition and the opportunity to hold a masterclass on fermentation management for control of flavours.
About the Spirits Selection: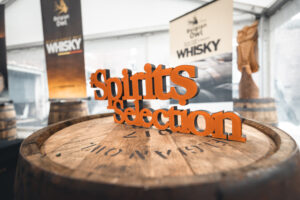 Spirits Selection by Concours Mondial de Bruxelles has become the international event judging spirits from all around the world. Their most important policy is to never lose sight of the fact that the best judge will always be the consumer.
In this way, whiskies, cognacs, brandies, rums, vodkas, gins, piscos, baijius and tequilas (among others), are tasted and assessed by a hundred judges from a group of international renowned experts in the spirit industry: journalists, distillers, buyers, importers, writers, consultants… This diversity is very important along it is contributing to the uniqueness of the event, and guaranteeing objectivity of the results. These tasters are from all over the world to taste, select and award spirits with irreproachable quality.
This major competition used to be an itinerant event since 2016 (former locations included Chile, Bulgaria, China…). Having the contest in a different country every year provides real opportunities, even for the host country, who can showcase their culture and expertise, whilst also the worldwide spirit industry to enhance their scope and exposure.
Unfortunately, since the COVID-19 pandemic started to affect the entire globe, the Spirit Selection event was contraint to stay in their home nation for the last 2 years, in Belgium, to ensure the safety of both organisers and guests.
Home Edition for 2021:
For the second year running, the competition took place in Brussels from 21st to 24th October 2021.
Despite the pandemic, they had registered 1,801 entries (an unexpected record number!), from 47 countries and included 42 different categories.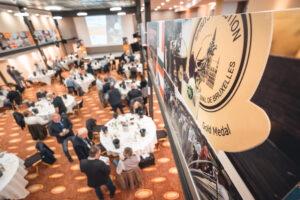 Spirits Selection offers here a more than complete overview of the spirits industry for all tastes.
The registration diversity directly reflects world consumption. Therefore, the Chinese Baijiu persists to be at the top, as the world's most consumed spirit, followed closely behind by the sugar cane distillates, rum and cachaça.
This year, as the sanitary conditions allowed to, the Belgian expertise was greatly honoured and not just for beer! Throughout this 4 days event, we had the pleasure of visiting three of the counties flagship distilleries and the opportunity to spend an evening meeting and networking local producers whilst tasting and discovering a variety of artisanal Gins.
Lallemand's Masterclass:
In this presentation, our speaker Alan Smart, Distilling Market Sales Manager (UK), discussed the impact of four common spirit aromas – diacetyl, ethyl acetate, geosmin and whisky lactone – with some words on their main characteristics, their origin and how to avoid or intensify them along the process of fermentation, distillation and maturation. In order to illustrate this talk, we set up a tasting session including several samples which offered a unique insighy and experience.
It was a real opportunity for Lallemand to have given this talk to people with such a high level of knowledge and expertise in the spirit industry. In return, it was a real pleasure to discover their scientific interests regarding better understanding flavours and even their desire to awaken their taste buds.
The results:
The event conferred three different awards: the Silver Medals, the Gold Medals and the Grand Gold Medals.
At the end of the competition, the few spirits who received a Grand Gold Medal are tasted a second time by all the jury chairs, in order to grant the supreme prize of "Spirits Selection Revelation". This unique distinction represents "innovative products that meet current consumer demand" as they are considering particularly representative of spirit market current trends.
In this 2021 Edition, as each year approximatively 30% of the products presented were award-winning, including 51 Grand Gold Medals (mainly from Brazil and France), 288 Gold Medals and 288 Silver Medals.
Only 12 spirits were decorated as Revelation:
Grappa Invecchiata Blend 18 Cavallina Bianca (Zanin 1895) / from Italy / Grappa
Cierto Tequila Reserve Collection – Reposado (Cierto Spirits Inc.) / from Mexico / Tequila
Cognac Delpech – Fougerat VSOP (Les Bruleries Modernes) / from France, Charentes / Cognac
Père Magloire VSOP (Spirit France Diffusion) / from France, Normandie / Calvados
Eau-de-vie de Poire williams BIO Bertrand (Distillerie Bertrand) / from France / Fruit Brandy
Mezcal Cómplice de Pasión Tobalá (Mezcal Cómplice) / from Mexico, Oaxaca / Mezcal
Middas Reserva dos Proprietários 6 years (Dias de Ouro LTDA) / from Brazil / Cachaça
Cachaça Matuta Single Blend 3,5 years (W! Cachaça – Vitória Industrial) / from Brazil / Cachaça
Cachaça Imigrante Ouro – 5 anos (Coop Familiar Agroindustrial Sul Catarinense – Cachaça Imigrante) / from Brazil / Cachaça
Admiral Rodney Officer's release 2 2009 (Spiridom) / from Saint Lucia / Rum
De Cort Oude Pajotse Jenever (De Cort Distillery) / from Belgium / Genever
Shanguo 52% vol (Shandong Jinyuanchun Wine Co. Ltd.) / from China / Baijiu
Mujeres Almolonga de Tixtla, Guerrero (Mujeres del Mezcal) / from Mexico, Guerrero / Mezcal
All the medals can be viewed on the official Spirits Selection website: https://results.spiritsselection.com/en/results/2021.
2022 Edition in Guadeloupe: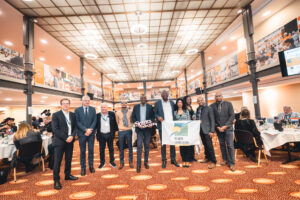 The big surprise announcement of this year's event was: Spirits Selection is back on the road!
Indeed, the French Carribean Island Guadeloupe will be hosting the 23rd edition, offering a unique opportunity for the French Caribbean island to showcase its ancestral knowledge and expertise in distilling sugar cane. Located between the Caribbean sea and the Atlantic ocean, Guadeloupe is a chain of islands in the French Caribbean region. Therefore, the next year's competition is going to one of the biggest French rum production, who is renowned not only for its agricultural rums but also for its "traditional" rums.
The entire organization is supported by the Guadeloupe regional council. A delegation led by Ary Chalus, chairman of the regional council, who travelled from Pointe-à-Pitre to Brussels for the occasion and invited all of the Spirits Selection family to reunite in June 2022, under the sun.
See you next year!