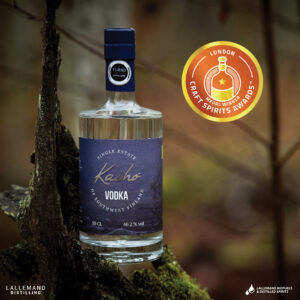 The whole team of Lallemand Biofuels & Distilled Spirits expressed their congratulations to Turku Distillery on their Gold Medal Win at the Craft Spirits Awards 2022, for their Kaiho Single Estate Organic Vodka!
The Kaihoa Vodka is a unique vodka from southwest Finland, made of organic winter wheat and crystal clear artesian water from this area. The spirit is distilled in a copper column: unfiltered and unsweetened – like its distillers.
The Craft Spirits Awards™ is held by the 16 year established Peak Publishing organisation which operates the largest wine and spirits awards in the world – "the most influential beverage competition in the world", "responsible for 1 billion bottles sold since 2006."
The Peak Publishing organisation is credited for launching and growing the most important wine and spirits brands from 55 countries around the world.  Brands including Dewar's, Label 5, Beringer, Jacob's Creek, Wolf Blass all credit Peak Publishing with their increased sales as a result of the Peak Publishing organisation.
Visit the distillery website here.
Visit the competition website here.